If you think that anything these nutters at
Household Hacker
is true, then you are mentally disordered. Worse yet, if you try to do one of their experiments and
regret what you just did
, then you should jump off a cliff now to end your misery.
In this post, I'm going to explain why two videos (the most popular ones, by the way), are absolute fakes. These two are "Power Your TV With An AAA Battery", and "Charge Your Ipod With An Onion".
Case Number 1: Power Your TV with an AAA Battery
This one was obviously a fake from the beginning. Its impossible, even logically, to believe a TV would run on 1.5V, when it originally runs on 110V - 240V. This video is fake for 3 reasons...
1)
1.5V doesn't equal 240V, and it will never equal 240V. Even if we used a device that controls voltage, 1.5V AC won't work (duh!), as I tried so in the picture below.
2)
A TV works on AC, or Alternating Current, which comes from your mains plug. A battery is DC, or Direct Current, which won't work with a TV. This is because DC only flows in one direction, whereas AC flows in both directions.
3)
A battery does not have enough amps to run a TV. A TV needs about 200 watts. If W = C x V, then the equation would become 200W = 0.91A x 220V, and we'd need 0.91 amps to run a TV. A battery's amps are usually in milliampere, or 1/1000 of an amp. Via
Qwaider
...

[...] And finally the TV needs about 200watts (That's called power) Power is calculated as: current x voltage. So to achieve 200Watts you will need 220v*0.91a(amper)=200w
usually the current of the battery is in the Milli amper. Or 1/1000 of an Amper.

Conclusion:

Fake

.Case Number 2: Charge Your Ipod With An Onion

This, by its name, seemed a bit true. When I actually saw the video, I completely changed my mind. The most thing I laughed at was how he pushed the USB in, how stupid is that? This is a fake, for 2 reasons...

1)

You can't just stick a USB into an onion to get power. Law says that if you want to extract power from anything, you need two different metals. The most commonly used are zinc and copper, as seen in the picture below. Just sticking in a USB plug into a onion isn't going to get you any power, because a USB plug doesn't contain two different metals, unless I'm wrong. A user on Gizmodo commented:

Any sort of primary cell (i.e. not chargeable) and many secondary cells require that the two electrodes be different materials (e.g. carbon/zinc, copper/zinc, nickel/cadmium, etc). The only thing being used to connect the onion to the iPod is the USB plug, presumably with the plug contacts being the electrodes. All of the plug contacts will be the same material.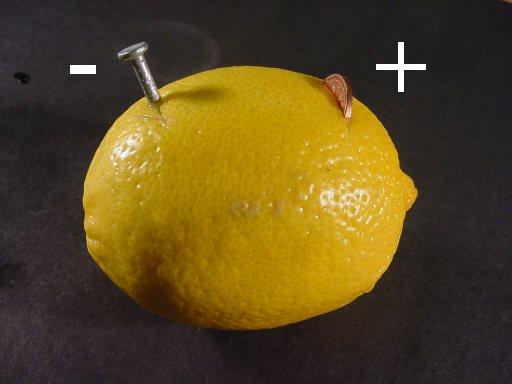 2)
It was tested to see if it let out any voltage, by a user on Youtube called Razorfish. Unfortunately, he has embedding disabled so click on the picture below to see the video. The voltage measured from an onion was 0.005V, which is negligible. Therefore, an onion with a USB stuck in it and dipped in a drink does not charge your Ipod.

Conclusion:

Fake

.
Now you see how any old crap on the internet can find its way, because the users on Youtube/Metacafe are

idiots

. Well, most of them. :D